From May 21 to 23, 2019, Professor Xuejun Wang was invited to visit the Wuhan University School of Basic Medical Sciences. Professor Wang is a tenured professor of Medical College of the University of South Dakota and director of the dual doctoral degree series of medicine and Philosophy (MD/PhD).
During the visit, Ming Jiang, Party Secretary of the College, and Dean Hongliang Li successively met with and introduced the good momentum of the college's development in recent years and communicated about the policy of the talent introduction. On the morning of May 22, Professor Wang delivered an academic talk entitled "Prime the Proteasome to Treat Heart Failure" to the faculty members and students in the conference room of the 3rd building. Wei Hou, Vice Dean of the college, presided over the academic report. The presentation focused on the relationship between cardiac diseases and ubiquitin-proteasome system (UPS), explored the significance of insufficient myocardial protease function (PFI) in the development of common heart diseases to heart failure, and how to use drugs to improve the protease function of myocardial cells, promote the quality control of myocardial proteins, so as to alleviate PFI and treat heart failure. Teachers and students in our institute participated actively, the atmosphere of the academic exchange was harmonious and strong.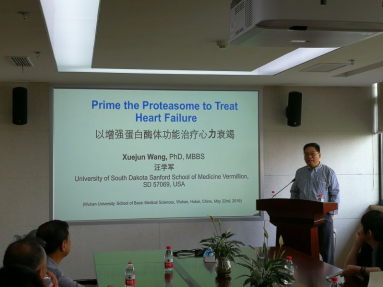 Professor Wang also visited the experimental animal research platforms of Institute of the Model Animal, teaching and research platforms of Human Anatomy. He had in-depth exchanges with Dean Hongliang Li and other experts in the research and development of genetically engineered animals, animal management and platform operation. Also, he enthusiastically guided the scientific research work of young teachers and postgraduates. He put forward his own suggestions on the construction and identification of model animals and how to use them to design in-depth research, which broadened the scientific research horizons of young teachers and postgraduates.
Professor Wang is a pioneer in the study of the effects of protein quality control and protein degradation (PQCD) dysfunction on the pathogenesis of heart disease. Some of the major findings provide new strategies for the treatment of heart disease and hope for better drug use in clinic. He has published more than 140 academic papers in mainstream journals, including Sci Adv, J Clin Invest, JACC, Circulation, Circ Res, Cell Res, etc. He has been appointed to the editorial board of several academic journals and has provided expert reviews for number of academic institutions, such as NIH, AHA, China National Natural Science Foundation, Singapore Medical Research Institute and Israel Science Foundation.
Written by Yihao Tian and Wei Hou